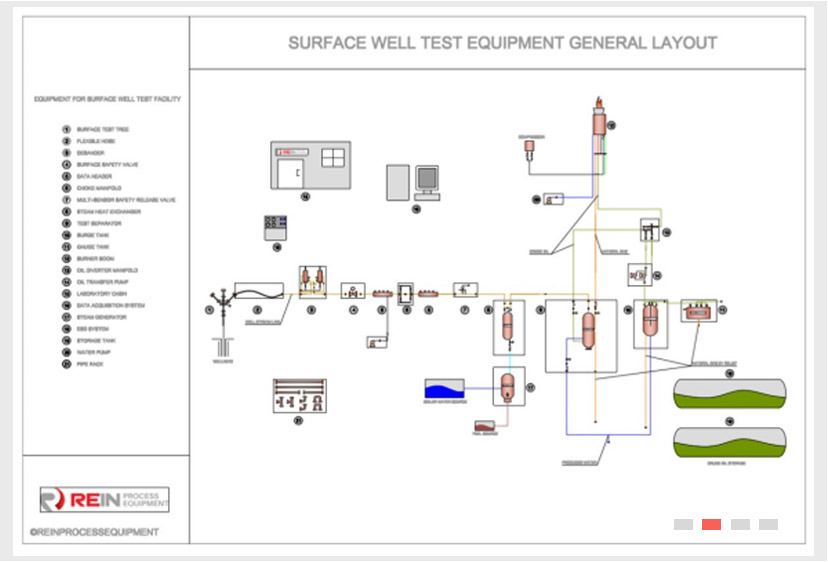 Surface Well Test System
REIN designs and supply complete packages and equipment for surface well testing. We design for onshore and offshore operations. Also, we design trailer-mounted mobile well test packages for areas with harsh and dry environments.
Surface well testing is an important stage of oilfield development. Well data and hydrocarbon samples acquired during surface well test operation is valuable for operating companies. Surface well test package consists of several equipment designed to handle flow steam by reducing pressure, removing sand, conditioning, separating and safe disposal.
Design and configuration of the equipment depends on the requirements of oilfield service company and chosen based on flow rate, flow composition, design pressure, environment condition and operational differences.
REIN supplies equipment that comply with American, International and Chinese standards, such as API 6A, API 16C, API 6D, API 12J, API 12K, ASME VIII, DIV 1/2, API 610, API-521, NACE MR0175/ISO 15156, CE/PED, ATEX, UL, DNV-2.7-1 and etc.
Our API and ASME certified facilities in China allow to fabricate, test, and supply cost-effective equipment within shortest period.
---
Flowhead (Surface Safety Tree)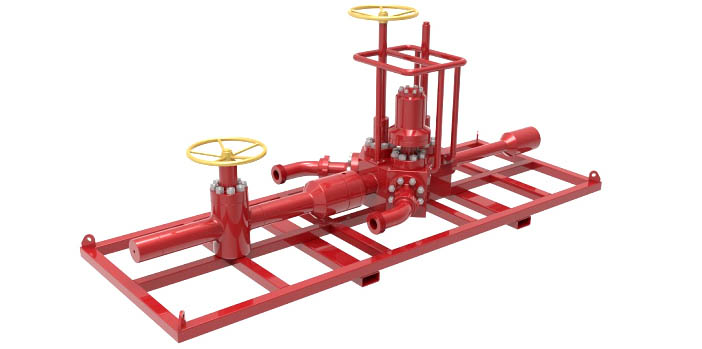 Flowhead is a special mechanical device designed to control and diver flow of well steam
---
Desander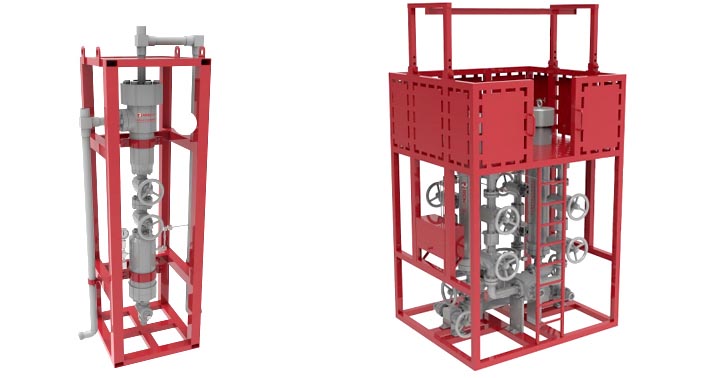 Desander is designed to remove sands and solids from well steam protecting upstream equipment.
---
Surface Safety Valve (SSV)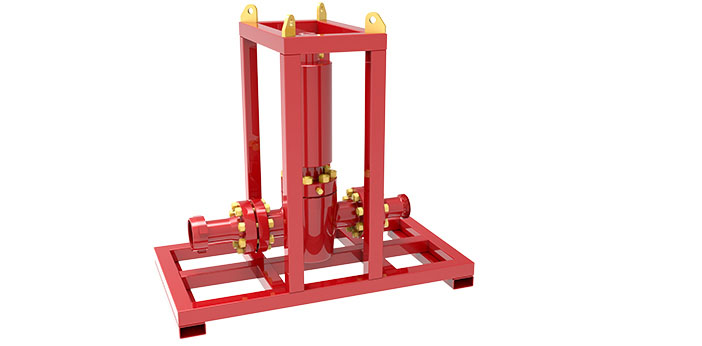 Surface Safety Valve is an especially important safety equipment, part of ESD system, used to protect all upstream equipment and personnel.
---
ESD Console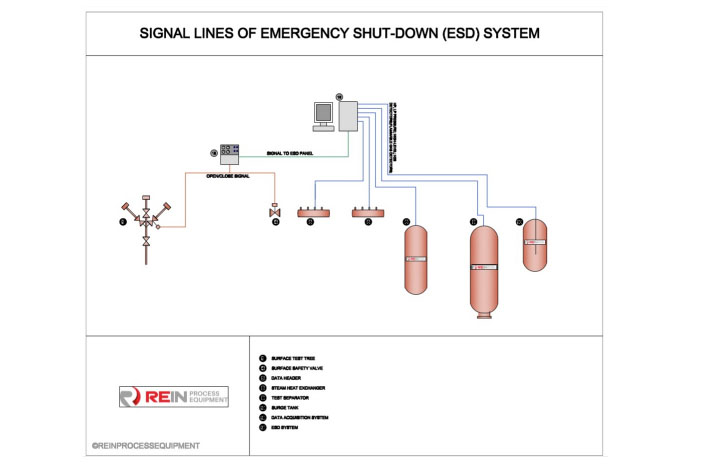 ESD console is a main control panel to open and close emergency shutdown valve during operation.
---
Choke Manifold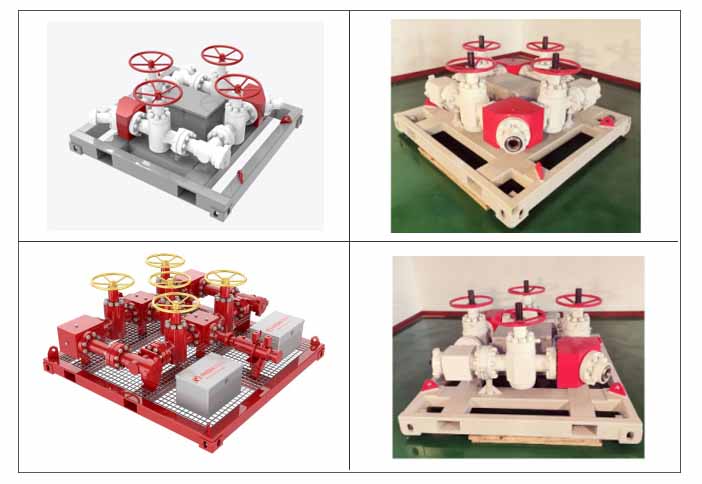 Choke Manifold is a pressure-reducing device which consist of several slab gate valves and chokes.
---
Data Header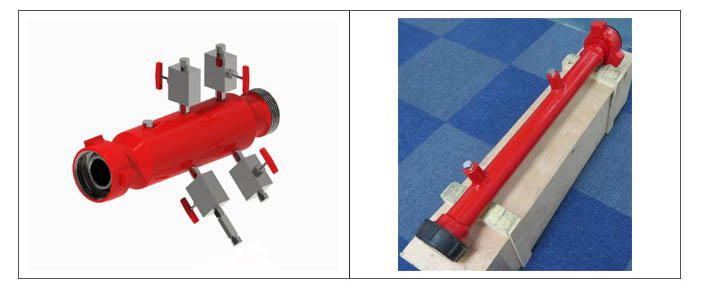 Data Header is a special tube with multiple ports, which serve as connection point to chemical injection pump and data acquisition system. Data header is placed downstream and upstream of choke manifold.
---
Chemical Injection Skid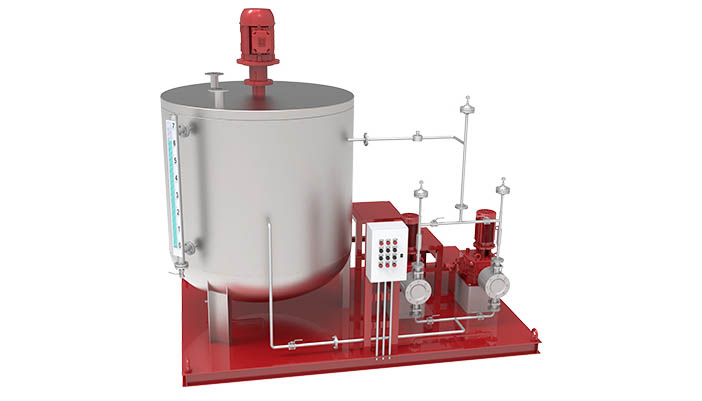 Chemical injection skid is a special unit with chemical tank, pump and other instrumentation designed to inject necessary chemicals into the flow steam.
---
Line Heater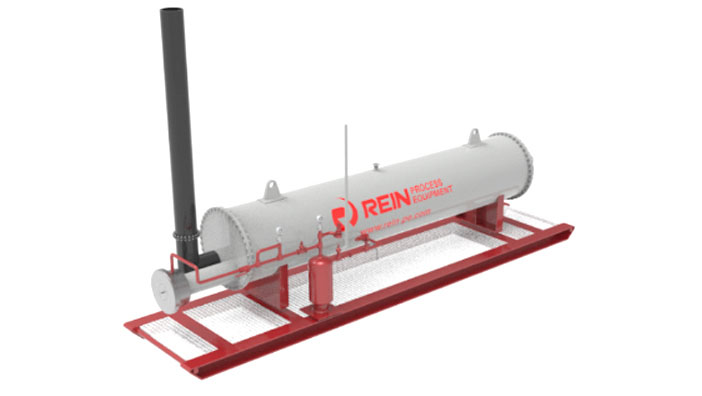 Line Heater heats up well stream to necessary temperature conditioning fluids for separation in test separator.
---
Steam Heat Exchanger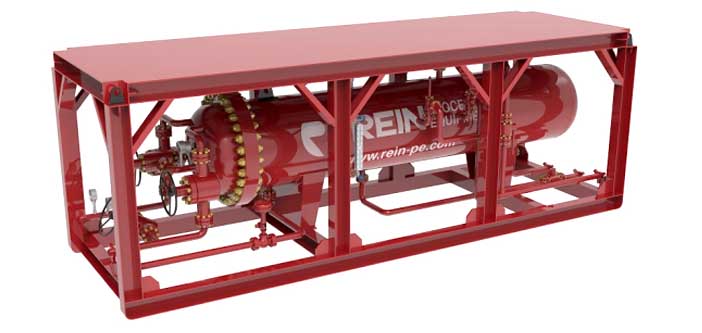 Steam heat exchanger is another heating equipment used in well testing designed in areas with higher requirements for safety. Steam heat exchanger heats up media by steam supplied from steam generator which condenses after contacting lower temperature coils.
---
Steam Generator
Steam generator is a typical small self-contained boiler designed to provide necessary steam to the facility and process equipment.
---
Test Separator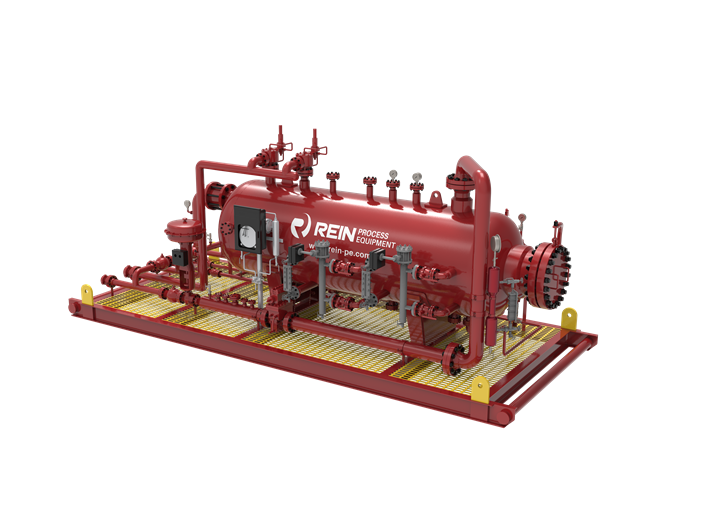 Test Separator is the most important device of surface well testing designed to separate well steam into three or four phases, as well as measuring behavior of each phase.
Dimension: 24 in x 8 ft., 30 in x 10 ft., 36 in x 10 ft., 42 in x 10 ft., 48 in x 10 ft., 42 in x 15 ft.
Pressure rating: 250 psi, 750 psi, 1440 psi, 2160 psi
---
Vertical Surge Tank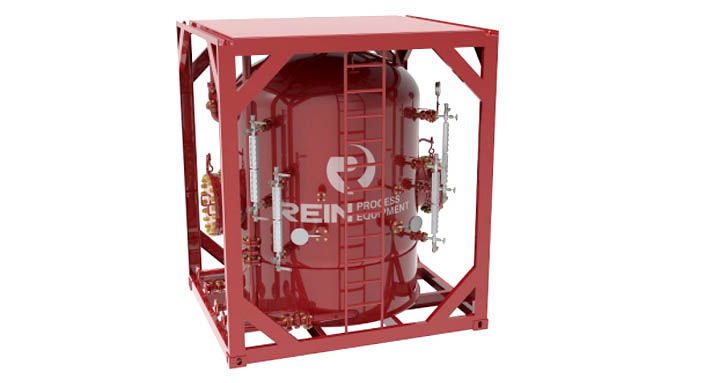 Surge Tank is a special vertical vessel designed to remove free gas from crude oil and condition fluids before disposal. Surge tank is also used for calibration of test separator's instruments in offshore facility.
---
Gauge Tank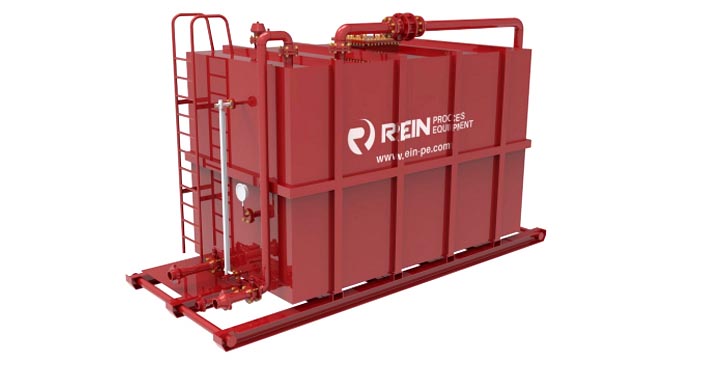 Gauge tank is a simple tank for holding liquids, also serving as auxiliary equipment for calibration of test separator's instruments.
---
Transfer Pumps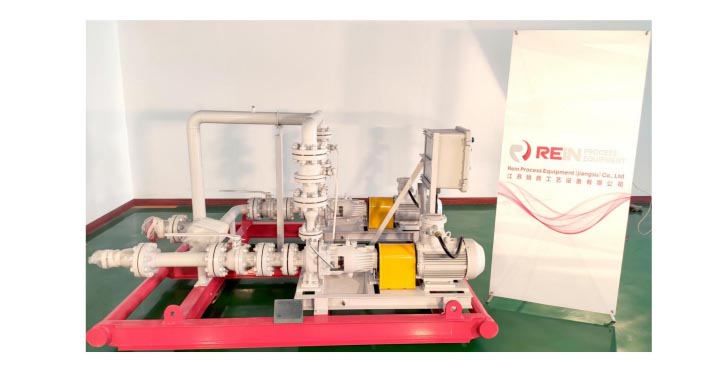 Transfer pumps designed to transfer liquids from one equipment to another. Transfer pump skid usually consists of two pumps and control panel.
---
Oil diverter manifold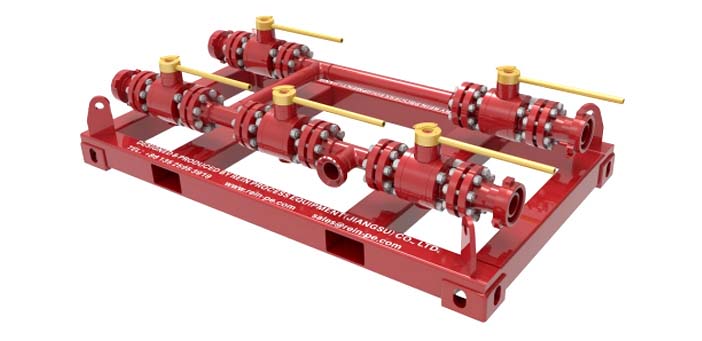 Oil diverter manifold consist of several ball valves and piping used in convenient direction of oil streams.
---
Gas diverter manifold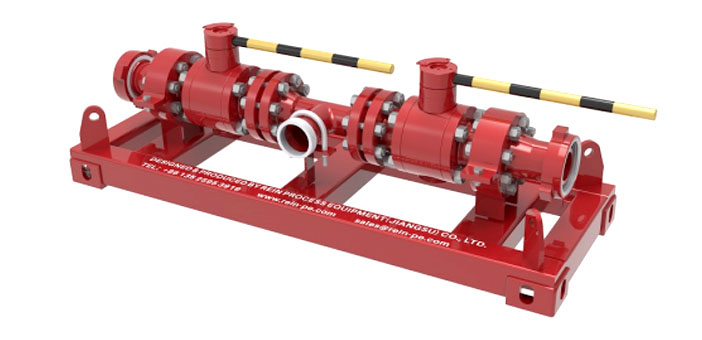 Gas diverter manifold consist of two or three ball valves and piping used in convenient direction of gas streams.
---
Crude oil burner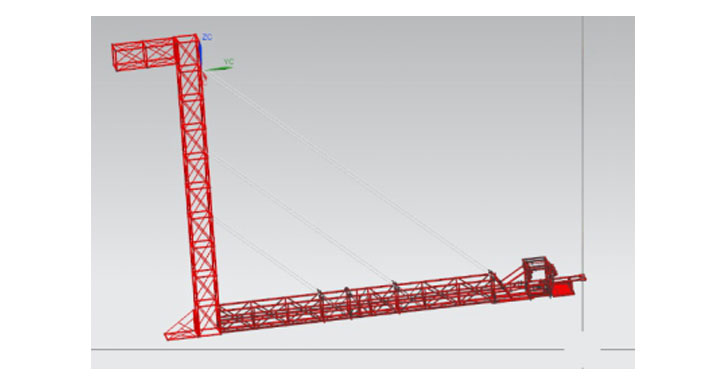 Crude oil burner is designed to safely dispose crude oil by combustion.
---
Gas flaring system
Gas flaring system consists of flare stack, flare tip, ignition system, KO drum and other auxiliary equipment designed to safely dispose gas by combustion.
---
Operator Room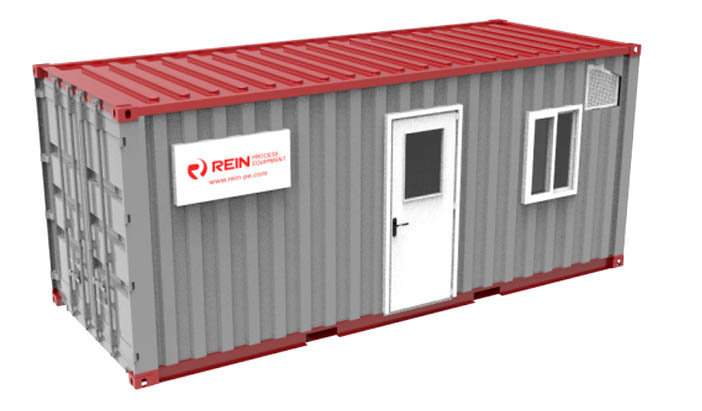 Operator room is a special container designed to provide convenient and safe space for personnel. DAS, monitoring, and safety systems are contained in this container.
---
Data Acquisition System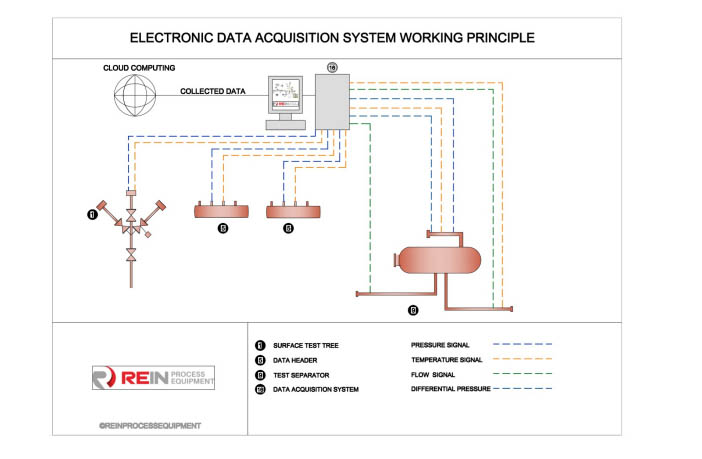 Data Acquisition System is a special set of devices which is connected by wire or wirelessly to the instruments of well test equipment to gather valuable data.
---
HP & LP piping and fittings
HP & LP piping and fittings is used to connect well test equipment with each other. HP/LP piping is usually supplied in pipe racks or contained in the bottom of SWT trailers.
---
Gas & Oil Sampling System
Gas & Oil sampling is a special device which is connected to gas and oil lines of test separator to obtain samples safely and conveniently.
---
Flexible Pipe
Flexible pipe is a special high-pressure hose used to connected flowhead or production x-mas tree with upstream straight line
---