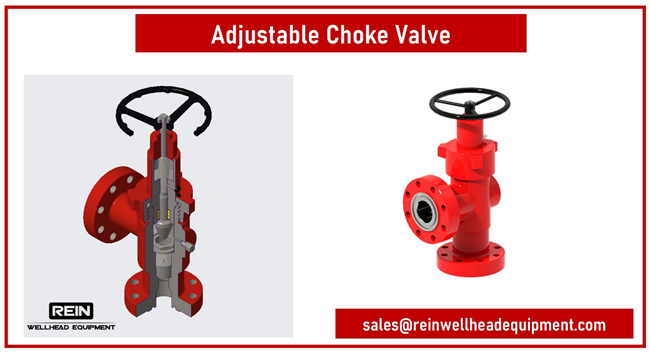 Adjustable Choke Valve is a special angle valve designed to reduce pressure of well stream to the required level, so upstream equipment may handle fluids and gases more safely and effectively. Adjustable Choke Valve is often used as a component of wellhead and Christmas tree assemblies, choke manifolds, in-line heaters, desanders and other oilfield equipment. There are two types of commonly used choke valves, adjustable choke valve and positive (bean) choke valves.
Blow is an additional description of adjustable choke valves
The choke is used to control the production, perhaps to prevent sand production or to maintain the most efficient rate for the well. The choke restricts the area available for flow through a beam or orifice of a specified diameter that must be inserted into the choke body. The smaller the diameter of the beam the lower the production rate. There are two different kinds of chokes, the positive chokes with interchangeable beans, and adjustable chokes, which allow the choke size to varied more easily.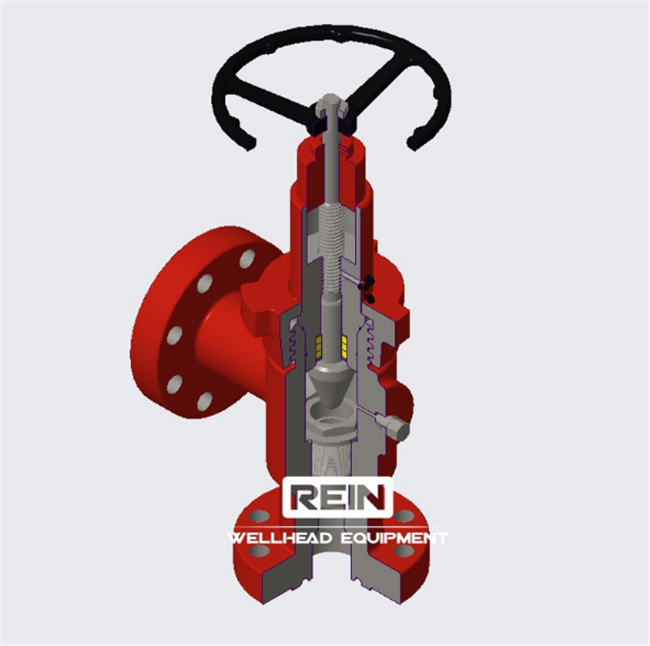 Rein Wellhead Equipment designs, fabricates and supplies adjustable choke valve as a separate item or as part of valve assembly, such as Oil & Gas Christmas tree, Choke Manifold, Water Bath Heaters, etc. Rein is a qualified and certified supplier and manufacturer of choke valves, as well as other products as per API 6A and API 16. Feel free to contact Rein for more information and price.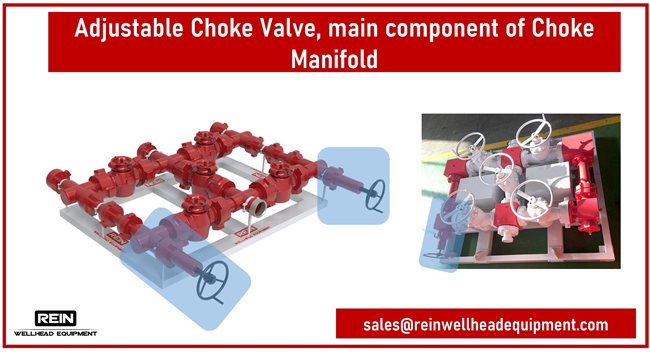 Code & Standards
API 6A
NACE MR-0175
ISO 15156-1, -2
ASME B31.3
PED 97/23/EC
| | |
| --- | --- |
| Standards | API 6A |
| Environment temperature | from -60°С to +40°С |
| Working temperature | LU (51℉/-46℃ ~ 250℉/121℃) |
| Material Grades | AA, BB, CC, DD, EE, FF, HH, FF |
| Specification level | PSL1 - PSL4 |
| Performance level | PR1, PR2 |
Material Class

Min. Material Requirements

Outer parts

Internals

AA

Carbon or Low Alloy Steel

Carbon or Low Alloy Steel

BB

Carbon or Low Alloy Steel

Stainless Steel

CC

Stainless Steel

Stainless Steel

DD

Carbon or Low Alloy Steel

Carbon or Low Alloy Steel

EE

Carbon or Low Alloy Steel

Stainless Steel

FF

Stainless Steel

Stainless Steel

HH

Corrosion Resistant Alloy

Corrosion Resistant Alloy

ZZ

Determined by User

Determined by User
Note: Classes from DD shall be NACE MR0175/ISO 15156 compliant
API Classification

Operating Temperature




Min (°C)

Max (°C)

Min (°C)

Max (°C)

K

-60

82

-75

180

L

-46

82

-50

180

N

-46

60

-50

140

P

-29

82

-20

180

S

-18

60

0

140

T

-18

82

0

180

U

-18

121

0

250

V

2

121

35

250

X

-18

180

0

350

Y

-18

345

0

650