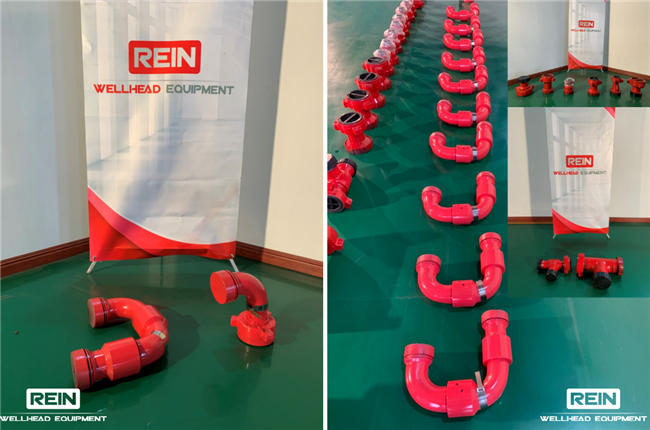 API 6A Swivel Joints are special mechanical equipment designed to connect oilfield machinery and direct flow in or out of wells in safe and effective way. Exceptional features of swivel joints are ability to handle extremely high pressures up to 20 000 psi (~135 MPa) and allowing oilfield personnel to quickly assemble and disassemble flowline equipment.
Swivel Joints are type of API Integral fittings which are manufactured from forged steel and machined by API-certified manufacturer. Swivel joints are categorized by types, connection size and types, pressure rating, and construction materials. Swivel joints can be applicable for standard sour services. Rein also designs swivel joints for hostile environment temperatures.
Oilfield operating personnel shall be trained, instructed and experienced before working with high-pressure integral fittings. Vendor shall supply clear test and inspection reports to ensure swivel joints are fabricated for required pressure and working conditions. Swivel vendor also shall provide clear drawings and manuals for operations and maintenance. Oilfield service companies usually transport swivel joints in pipe racks along with other integral fittings and high-pressure valves.
Standard sizing:
1" ; 2" ; 3" ; 4"
Pressure Rating
6000 psi ; 7500 psi ; 10000 psi ; 15000 psi ; 20000 psi
Styles:
Style 10 ; Style 20; Style 40; Style 50; Style 60; Style 70; Style 80; Style 100
Connection Type
M X M
M X F
F X F
FIG 602
FIG 1002
FIG 1502