Double Barrel Debris Catcher with Hydraulic Valves
Double Barrel Debris Catcher with hydraulic and manual gate valves allow the oilfield service to conduct flowback and well clean-up works continuous without work interruption due to the maintenance of debris catcher. Barrels of debris catcher ensures separation of trash coming from formation after the hydraulic fracturing, hydraulic slab gate valves ensure remote flow control, while manual gate valves provide additional means of flow control in case of unavailability of hydraulic power.
Rein supplies single- and double-barrel reliable debris catcher manifolds with hydraulic and/or manual slab gate valves. Manifold is designed with deep consideration to ease transportation and operation of manifolds. Rein also supplies control panels to control and monitor hydraulic slab gate valves.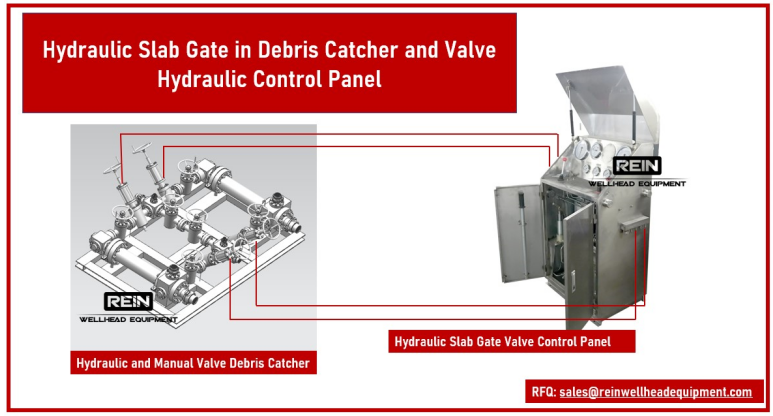 Pressure rating of Single Barrel Debris Catcher
| | | | |
| --- | --- | --- | --- |
| MPa | 35 | 70 | 105 |
| psi | 5000 | 10000 | 15000 |
Sizing of Single Barrel Debris Catcher
Inlet Connection

2" Fig.1502, 3" Fig.1502,

API Flange 3.1/16"-10K/15K,

API Flange 4.1/16"-10K/15K,

API Flange 5.1/8"-5K,

Outlet Connection

2" Fig.1502,

3" Fig.1502,

API Flange 3.1/16"-10K/15K,

API Flange 4.1/16"-10K/15K,

API Flange 5.1/8"-5K,
Catcher Barrel Sizing
Code & Standards
API 6A
NACE MR-0175
ISO 15156-1, -2
ASME B31.3
PED 97/23/EC
---
| | |
| --- | --- |
| Standards | API 6A |
| Environment temperature | from -60°С to +40°С |
| Working temperature | LU (51℉/-46℃ ~ 250℉/121℃) |
| Material Grades | AA, BB, CC, DD, EE, FF, HH, FF |
| Specification level | PSL1 - PSL4 |
| Performance level | PR1, PR2 |
Material Class

Min. Material Requirements

Outer parts

Internals

AA

Carbon or Low Alloy Steel

Carbon or Low Alloy Steel

BB

Carbon or Low Alloy Steel

Stainless Steel

CC

Stainless Steel

Stainless Steel

DD

Carbon or Low Alloy Steel

Carbon or Low Alloy Steel

EE

Carbon or Low Alloy Steel

Stainless Steel

FF

Stainless Steel

Stainless Steel

HH

Corrosion Resistant Alloy

Corrosion Resistant Alloy

ZZ

Determined by User

Determined by User
Note: Classes from DD shall be NACE MR0175/ISO 15156 compliant
API Classification

Operating Temperature

Min (°C)

Max (°C)

Min (°C)

Max (°C)

K

-60

82

-75

180

L

-46

82

-50

180

N

-46

60

-50

140

P

-29

82

-20

180

S

-18

60

0

140

T

-18

82

0

180

U

-18

121

0

250

V

2

121

35

250

X

-18

180

0

350

Y

-18

345

0

650
---