Dual Pot Sand Filter
Dual Pot Sand Filter is a special oilfield equipment designed to remove sands and solids from well fluids and gas. Dual Pot Sand Filter, also known as Dual Pot Desander, is an essential piece of equipment widely used in onshore and offshore surface well testing, flowback and early production works. Rein Wellhead Equipment designs and supplies durable and efficient dual pot sand filters with quality components, high-efficiency filter inserts, and offers customization based on the flow operating conditions.
Dual Pot Sand Filter consists of two pots (vertical vessel), filter insets designed to handle specific range of particles from 100 up to 800 microns, while other filtering ranges are also available in Rein's sand management solutions. Mainstream piping accommodates slab gate valves, choke valve for blowdown pressure reduction, pressure and differential pressure gauges, nozzles and system for water jetting, hammer unions for convenient connecting piping, special steel structure for easy transportation, operation, and cleaning filter inserts.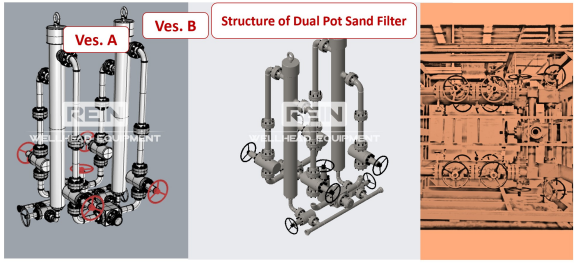 As pressures and operating conditions of wells may differ, Rein designs Dual Pot De-sanders for wide range of high-pressure rating, from 5000 psi up to 15000 psi. Another important process data along with pressure rating, that influences configuration and price of desanders is flowrate. Rein's dual pot desanders can handle high gas flowrates up to 100 MMSCFD, and liquid up to 10000 bpd. Construction materials of desander vessel is manufactured from carbon steel, while insert shall be stainless steel or special enforced alloy. Slab gate valves shall comply with API 6A, construction material is DD or EE as per API standards. Rein Wellhead Equipment designs and fabricates dual pot sand filters both for onshore and offshore application. We ensure quality performance, durability, cost-effectiveness, and fast delivery.
Rein Wellhead Equipment is a manufacturer and supplier of dual pot wellhead desanders. Feel free to contact REIN for more technical information and price concerning dual pot sand filters. Rein also fabricates and supplies wide range of oilfield equipment for well completion, surface well testing, flowback, well clean-up and early production.
Features
Suitable for onshore and offshore application
Easy for mobilization
Durable components
Mechanical Monitoring
Digital Monitoring
Easy to operate and service
Application
Well clean-up
Flowback
Surface well testing
Early Production
Codes & Standards
Well clean-up
Flowback
Surface well testing
Early Production
Codes & Standards
API 6A
ASME VIII DIV 2
ASME B31.3
NACE MR 0175 / ISO 15156
PED/CE
Pressure rating
5000 psi
10000 psi
15000 psi
Other as per client's requirements
Service
Standard Service
Sour Service
Winterized
---
---