ESD Control Panel
ESD control panel (ESD console) is a special safety device designed to provide necessary hydraulic force for emergency shutdown valve(s) to shut down well stream immediately and safely when high temperature and/or high pressure occurs during well test, flowback and other oilfield operations. ESD control panel has box-shaped structure with multiple components in it, while control panel provides human-machine interface for convenient operation. Design and configuration of ESD panel depends either or serial products of vendor or requirements of the clients. Rein Wellhead Equipment designs, fabricates, and supplies durable and cost-effective hydraulic systems, including ESD control panel as per client's requirements. We use quality components both of famous brands, as well as offer cost-effective solutions with components of Chinese components, which equally provide long and reliable service to oilfield service company.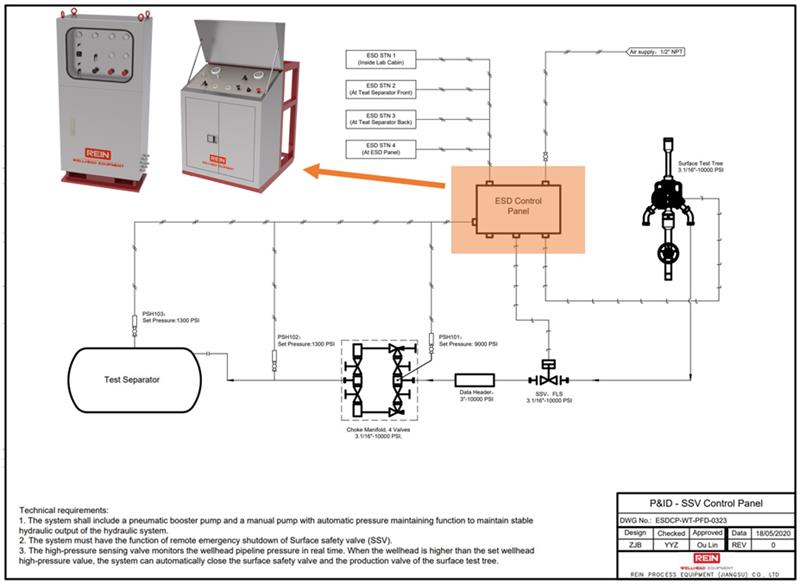 Following drawings shows location of ESD control panel (or ESD console) in ESD system of surface well test equipment. In practice, pneumatic and hydraulic pump is used as a main component of ESD Control Panel during surface well testing. It requires supply of compressed air and hydraulic liquid (hydraulic oil). ESD control panel (station) has multiple ports which allow operator to connect pneumatic and hydraulic lines. Pneumatic lines are connected to pressure pilots which installed in downstream equipment and/or pipe. Hydraulic lines connect surface safety valve (also known as Flowhead) and surface safety valve (SSV). In case of emergency, line is shut down by pressing red push buttons on the ESD control panel and/or on downstream equipment and utilities like test separator, lab and office cabin, surge tank, etc. Location of additional push buttons depends on the requirements of oilfield service company. Rein can provide technical advises and suggestions concerning configuration of the ESD system, as well as supply equipment complying client's requirements.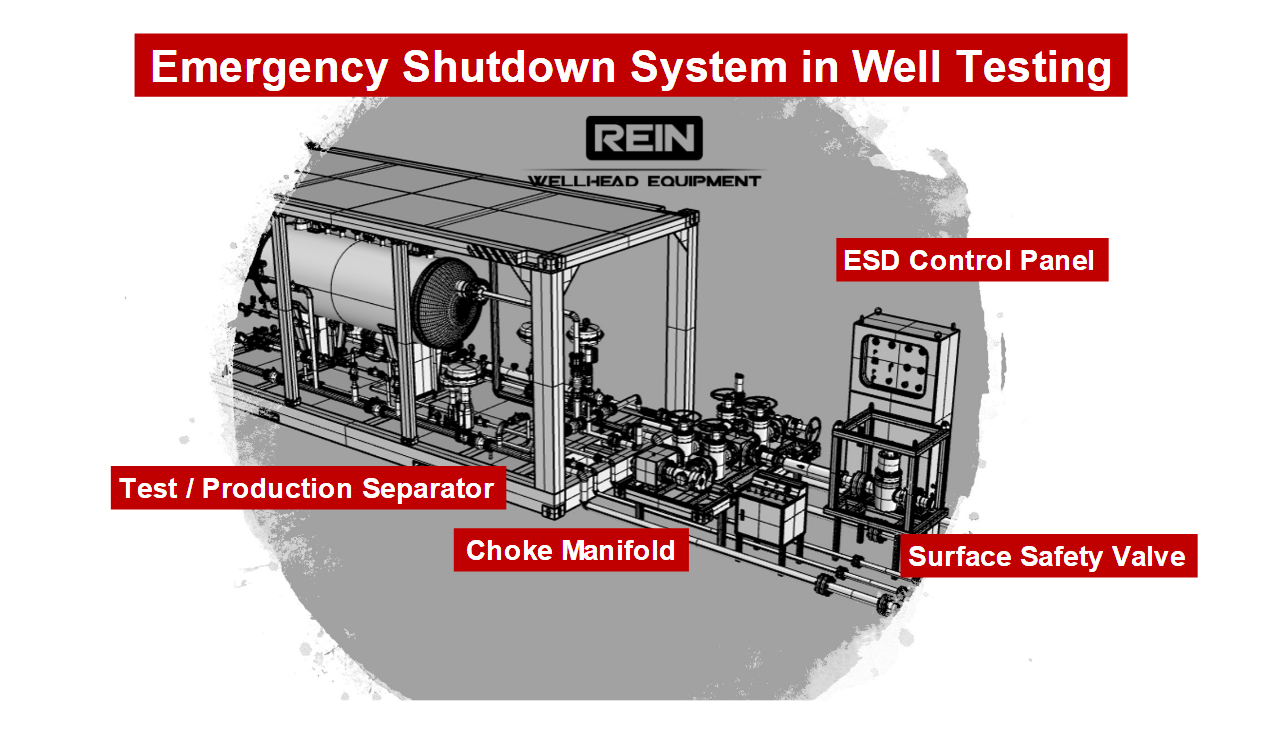 Rein Wellhead Equipment supplies serial, as well as customized ESD control panels for oilfield operations. Feel free to contact us for technical assistance and quotation.
---
---