API 6A Check Valves
These valves are manufactured to a high specification from forged steel bodies with stainless internals as standard. They are available from 2000 psi through 20000 psi working pressure in size from 1.13/16" to 5.1/8" depending on pressure range.
REIN Check Valve is a robust design which incorporates all of the desirable features proven to provide long life and trouble free operation. Designed, manufactured, tested and monogrammed in accordance with API 6A requirements. Fire tested and qualified to API 6FA requirements.
Check valve structure is divided into swing type and lifting type.
End connections are usually flanged in accordance with API 6A, however, other end connections, such as hubs or unions, are also available.
Specifications
· Nominal diameter: 2.1/16" ~ 7.1/16"
· Working pressure: 2000 PSI ~ 20000 PSI
· Working media: oil, natural gas, mud
· Working temperature: LU ( 51℉/-46℃ ~ 250℉/121℃)
· Material grades: AA, BB, CC, DD, EE, FF, HH
· Specification level: PLS1 ~ PSL4
· Performance level: PR1 ~ PR2
Features
· Metal to Metal Seal
· Full bore and piggable design
· stainless steel seat and clapper (optional spring loaded clapper)
· Hammer union, hub, or threaded end connections are available
---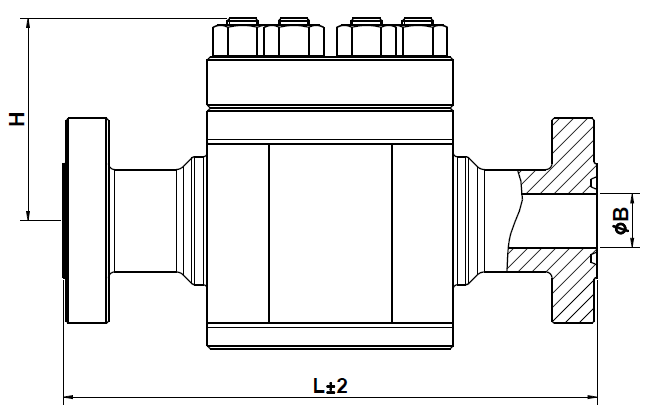 Flanged End Dimensions (mm)
2000 PSI Working Pressure
| | | | | |
| --- | --- | --- | --- | --- |
| Size | Bore(φB) | L | H | Weight (kg) |
| 2.1/16" | 52.5 | 295 | 160 | 55 |
| 2.9/16" | 62.7 | 333 | 175 | 70 |
| 3.1/8" | 77.9 | 359 | 190 | 90 |
| 4.1/16" | 102.3 | 435 | 230 | 150 |
| 7.1/16" | 146.3 | 562 | 310 | 330 |
Flanged End Dimensions (mm)
3000 PSI Working Pressure
| | | | | |
| --- | --- | --- | --- | --- |
| Size | Bore(φB) | L | H | Weight (kg) |
| 2.1/16" | 49.3 | 371 | 180 | 65 |
| 2.9/16" | 59.0 | 422 | 200 | 95 |
| 3.1/8" | 73.7 | 384 | 215 | 110 |
| 4.1/16" | 97.2 | 460 | 270 | 225 |
| 7.1/16" | 146.3 | 613 | 320 | 400 |
Flanged End Dimensions (mm)
5000 PSI Working Pressure
| | | | | |
| --- | --- | --- | --- | --- |
| Size | Bore(φB) | L | H | Weight (kg) |
| 2.1/16" | 42.9 | 371 | 190 | 75 |
| 2.9/16" | 54.0 | 422 | 210 | 115 |
| 3.1/8" | 66.6 | 473 | 230 | 130 |
| 4.1/16" | 87.3 | 549 | 300 | 300 |
| 7.1/16" | 131.8 | 711 | 335 | 560 |
Flanged End Dimensions (mm)
10000 PSI Working Pressure
| | | | | |
| --- | --- | --- | --- | --- |
| Size | Bore(φB) | L | H | Weight (kg) |
| 2.1/16" | 52.4 | 521 | 280 | 130 |
| 2.9/16" | 65.1 | 565 | 297 | 175 |
| 3.1/16" | 77.8 | 619 | 290 | 207 |
| 4.1/16" | 103.2 | 670 | 350 | 450 |
| 5.1/8" | 130.2 | 737 | 400 | 600 |
---