Frac Stack
Frac Tree or Frac Stack is another type of Christmas Tree designed to handle high-pressure and high flowrates during hydraulic fracturing. Frac trees are designed for high pressure ratings up to 15000 psi (105 MPa) and made from construction materials as per API classification (AA-HH). For H2S-containing wells, Frac Stack assembly are made from sour-service construction materials. Typical Frac Stack consists of several API components, such as Frac Head (Goat Head), Cross, Upper & Lower Master Valves, Swab Valve, Tree Cap and Hammer Unions. Rein designs and supplies Frac Trees as per API 6A regulations, while sour-service series comply with NACE MR0175.
By the discovery of hydraulic fracturing technology and increased interest in shale gas production, demand for Frac Trees are increased exponentially. To keep up with increasing demand, Rein Wellhead Equipment recently increased production capacity, which allowed us to produce hundreds of sets of Frac Trees monthly. Rein guarantees good quality, fast delivery period, quality of service and favorable price. Production period of Frac Stacks are from 30 to 60 days depending on availability raw material in Rein's warehouse. Price depends on client's requirements to sizing, construction material and other specific requirements. Rein can deliver Frac Tree either by land or sea. Our facility is located near Lianyungang station and Shanghai port, which allows us to delivery Frac Stacks quickly either by land or sea.
Drawings of typical Frac Stack (Frac Tree) is given below: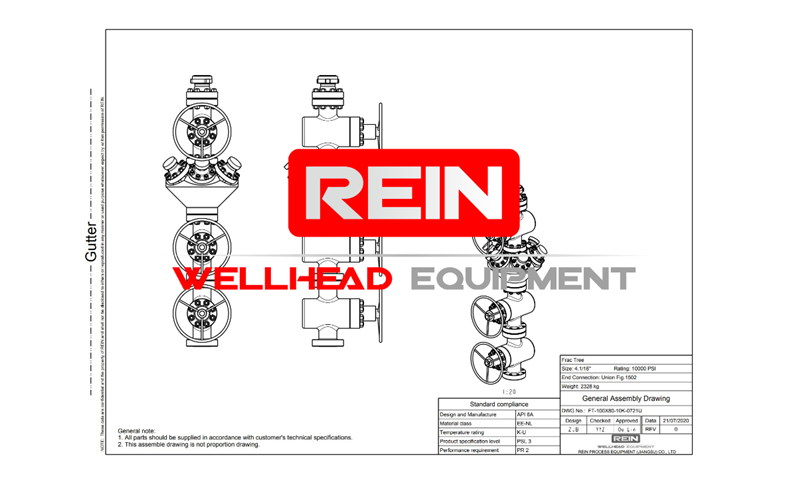 ---
Our Frac Trees are widely used both in domestic and international market. Feel free to contact Rein for technical assistance and quotation not only for Frac tree, but also for other oilfield machinery. Rein Wellhead Equipment is a manufacturer and supplier of Frac Trees (Frac Stacks) as well as other oilfield machinery.
Nominal diameter for outer pipe connection, in.

2.1/16" - 7.1/16

Nominal Pressure, psi (MPa)

5000 psi – 15000 psi

(35-105)

Environment temperature

from -60°С to +40°С

Working temperature

LU (51℉/-46℃ ~ 250℉/121℃)

Material Grades

AA, BB, CC, DD, EE, FF, HH, FF

Specification level

PSL1 - PSL4

Performance level

PR1, PR2
Material Class

Min. Material Requirements

Outer parts

Internals

AA

Carbon or Low Alloy Steel

Carbon or Low Alloy Steel

BB

Carbon or Low Alloy Steel

Stainless Steel

CC

Stainless Steel

Stainless Steel

DD

Carbon or Low Alloy Steel

Carbon or Low Alloy Steel

EE

Carbon or Low Alloy Steel

Stainless Steel

FF

Stainless Steel

Stainless Steel

HH

Corrosion Resistant Alloy

Corrosion Resistant Alloy

ZZ

Determined by User

Determined by User
API Classification

Operating Temperature

Min (°C)

Max (°C)

Min (°C)

Max (°C)

K

-60

82

-75

180

L

-46

82

-50

180

N

-46

60

-50

140

P

-29

82

-20

180

S

-18

60

0

140

T

-18

82

0

180

U

-18

121

0

250

V

2

121

35

250

X

-18

180

0

350

Y

-18

345

0

650
---