Wellsite Inlet Manifold
Wellsite Inlet Manifold or just Production Manifold is a special flow-control and diverting valve-assembly designed to receive flow of single and multiple wells, test each flow of each well and diver all flows into one production Line. Inlet manifolds are widely used during well testing, oil and gas production, and other oilfield applications. Rein Wellhead Equipment designs, fabricates, and supplies wide range of inlet manifolds for surface well testing, multiphase flow-measurement, early production facilities.
Rein can design inlet manifolds based on the requirements of the client or offer from developed models. Composition of each inlet manifold varies based on the well pressure, flowrate, characteristics of working media, functionality, type of operation and control (manual or with actuator). Conventional inlet manifolds consist of ball valve, check valves, piping, fittings, union of flanged connections. Rein can also design inlet manifold with Multiport Valve Selector, in short MSV, which saves space and several components in compared to conventional manifolds.
Flow measurement function is quite common in inlet manifolds. Some client may call inlet manifold as Automatic Measurement Unit (AMU), because AMU may contain multiphase flow meter or single-phase flowmeter. Data of the flow, either single-phase or multi-phase shall be transmitted to main control and data-collecting system. As Inlet manifold used in hydrocarbon production, all electrical enclosures shall be explosion-proof, and IP level shall be specified during proposal development.
Rein also offers winterized inlet manifolds with thermal insulation for application in cold areas. We ensure proper insulation work using high quality materials and minimize temperature loss. Heat tracing is also provided upon request. Chart below shows flowchart of conventional inlet manifold used during well testing and production.
---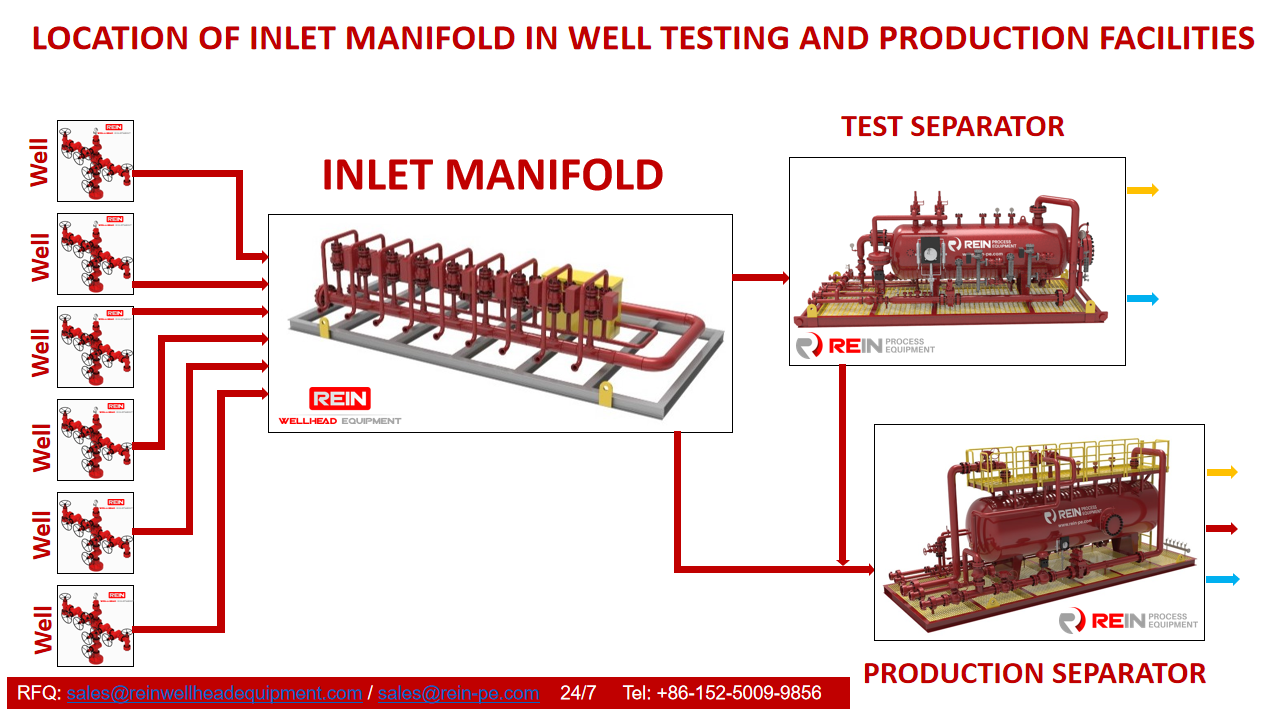 Current picture shows location of the inlet manifold in oil & gas production facilities. Inlet manifold is an important equipment, installed at the entry of well testing and production facilities. Rein Wellhead Equipment designs and fabricates inlet manifolds in China, considering requirements to quality performance, delivery period and price. Please feel free to contact Rein for technical assistance and quotation for inlet manifolds, wellhead assemblies, flowline equipment, as well as process packages and systems, such as test and production separators, which are manufactured by another division of Rein, Rein Process Equipment. We will be glad to discuss technical details and provide optimal solutions for your production facility.
Application
· Onshore
· Offshore
· Trailer-mounted
· Well testing
· Early Production Facilities
Features
· Quality heat tracing and thermal insulation
· Optional Relief Valves
· Automated Operation
· Digital data transmission
· Self-contained space-friendly skid
· Explosion-proof
· Dust- and water- proof
· Quality components
· Cost-effectiveness
· Quality assembly and testing
· Optional Coriolis flow meter
· Optional Multiphase flow meter
Codes & Standards
· API 6D
· ASME B16.34
· ASTM / BS / JIS / GOST
· CE/PED
· ATEX
· GB
· NACE MR0175 / ISO 15156
Main technical parameters
Design pressure:

150-900 LB (ANSI class)

PN 20 – 150

Inlet Size & Test Size

2" – 6"

DN50-150

Production Line Outlet Size

4"-16"

DN100-400

Well Inlet Number

4-18 or more

Construction Material

Valve Body – Forged / Casted Carbon Steel

Valve Internals – Stainless-steel

Piping – seamless pipe

Flanges – forged

Instruments – Stainless-steel

Skid and steel structure – construction carbon steel / CS galvanized

Connection Type

Hammer Unions

Flanged
Note:
Rein Wellhead Equipment designs custom-made solutions based on the client's operation and environment conditions. Other details shall be specified in technical requirements and technical proposal.
---